… im In- und Ausland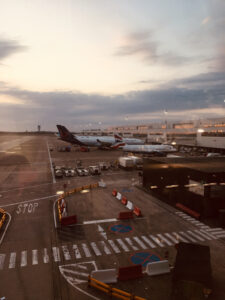 Anstehende Vorträge in den nächsten Monaten:
51. "The European Border in Africa – On Colonial Maps, Postcolonial Walls and Decolonized Spaces in Hispanophone African Literature." Gastvortrag in der Ringvorlesung "Border Temporalities: Doing Literature in a World of Walls", 14.12.2023, FU Berlin.
50. "El cine español y la diáspora africana." Gastvortrag am Centre d'Études et de Recherche en Romanistique (CERROMAN), 6.11.2023, Université Cheikh Anta Diop de Dakar (Senegal).
49. "L'imaginaire de la nature indomptable et l'arbitraire de la violence – Une analyse écocritique du film La miséricorde de la jungle (2018) de Joël Karezeki." Kongress der Association pour l'étude des littératures africaines APELA (Littératures africaines et écologie), 1.-4.11.2023, Université Cheikh Anta Diop, Dakar (Senegal).
Bislang gehaltene Vorträge
48. "Narrated Identities and (Self-)Positionings in Afro-Spanish Activist Writing." Online-Tagung "Hispanophone Africa and beyond: colonial legacies, anti-colonial solidarities and postcolonial futures?", 12-13.7.2023, Northumbria University.
47. Diskutandin bei dem Round Table "The Place Of Africa In Contemporary Spain And The Global Hispanophone". Chairs: N. Michelle Murray (Vanderbildt U), Benita Sampedro Vizcaya (Hofstra U). Weitere Diskutand:innen: Alfonso Bermúdez (U de Zaragoza), Eric Calderwood (U of Illinois), Mahan Ellison (Bridgewater College), Ahmed Idrissi Alami (Purdue U), Victoria L. Ketz (La Salle U), MLA Convention 2023, 5.-8.1.2023, San Francisco (CA), USA.
46. "La valla de Melilla y el Mediterráneo: otras rutas en la obra de Juan Tomás Ávila Laurel." Gastvortrag im hybriden Seminar "Resignificando el triángulo transatlántico a través de la literatura", 23.11.2023, JLU Gießen.
45. "Des-cartografiando el continente africano en El juramento de Gurugú de Juan Tomás Ávila Laurel." Symposium "Between Africa, Latin America and Europe: Aesthetics and Epistemic Visions of Afro-Hispanic Culture of the 20th and 21st Centuries" (Volkswagenstiftung), 06.-08.07.2022, Xplanatorium Schloss Herrenhausen, Hannover.
44. "Sergio Aparicio's Galsen, el lenguaje de las almas – the Afrodiasporic subject and the (symbolic) return to Africa." LHCALA panel, 47th Annual Meeting of the African Literature Association: Adversity and Creativity: African Literature, Film, Media and Public Discourse, 18.-21.05.2022, Online.
43. "Between Europe and Africa: Diasporic Identity Constructions and Projections of 'Home'." Invited lecture am Afro-Romance Institute, 13.04.2022, University of Missouri, Columbia (MO), USA.
Vortrag am Afro-Romance Institute an der University of Missouri. Copyright: M. Badiane
42. "Descolonizar el mapa en El Juramento de Gurugú." Invited lecture im Seminar "African in Spain and Spain in Africa" von Elisa Rizo, 11.04.2022, Iowa State University, Ames (IO), USA.
41. mit Danae Gallo González. "Expressions de genres, politique hétéronormative du corps et résistance queer dans l'œuvre de Melibea Obono." Kongress der Association pour l'étude des littératures africaines APELA (Activismes et esthétiques queer dans les littératures africaines), 22.-24.09.2021, HU Berlin (digital).
40. "Rethinking Community and Subaltern Agency – Critical Perspectives on Europe and Migration in Equatoguinean Literature." 8. Postgraduiertenforum Postcolonial Narrations (Rethinking Postcolonial Europe: Moving Identities, Changing Subjectivities), 10.-12.02.2021, JLU Giessen (digital)
39. "Digitale Diasporas: Afrodeszendente Blogger*innen aus Frankreich und Spanien." Gastvortrag in der Ringvorlesung "Master Romanistik International", 21.01.2020, Universität Bremen.
38. "Spanisch in Afrika: Eine Einführung in die Literatur Äquatorialguineas." Gastvortrag in der Ringvorlesung "Master Romanistik International", 26.11.2019, Universität Bremen.
37. "Negotiating African/Afrodiasporic Heritage in Film and Photography – A Case Study from Spain." Internationale Tagung am Institució Milà i Fontanals, CSIC (Enriching Afro-Iberian Cultural Heritage: Current Trends on Culture, Religion and Language), 14.-15.11.2019, Barcelona, Spanien.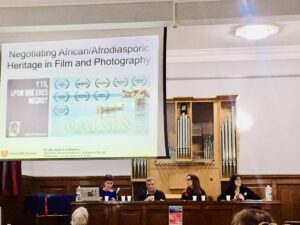 36. "Interconexiones Sur-Sur: la circulación del saber y los procesos de transferencia cultural en las obras de autorxs y artistas afrodescendientes en España." XXXVI. Romanistentag, 29.09.-02.10.2019, Kassel.
35. "Perspectivas literarias y (audio)visuales sobre afrodescendencia en España." Internationale Tagung "Interpréter l'Afrique / Interpretar África" an der Université de Yaoundé I, 26.-28.06.2019, Jaunde, Kamerun.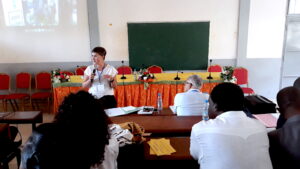 34. mit Danae Gallo González. "Afrodiasporic Communities 2.0 – or: How Identificational Spaces of Afrodescendance Are (Re-) Negotiated in the World Wide Web." Internationale Tagung "Digital Diasporas: Interdisciplinary Perspectives", 06.-07.06.2019, London, Vereinigtes Königreich.
33. "Aktivismus im Internet: Afrofeministische Blogs aus Spanien und Frankreich." Gastvortrag im Seminar "Voces femeninas en/'después de' la migración. La literatura hispano-marroquí", 23.05.2019, Universität Leipzig.
32. "Espacios intersticiales en la poesía afroespañola." 1. Kongress der Asociación Marroquí de Estudios Ibéricos e Iberoamericanos "Literaturas africaas en lenguas ibéricas (1956-2018)", 18.-20.04.2019, Agadir und Sidi Ifni, Marokko.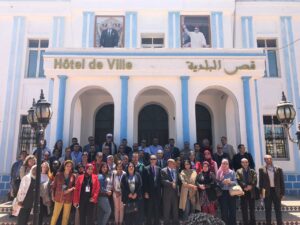 31. "Cine contemporáneo: perspectivas sobre la migración africana y la comunidad afrodescendiente en España." XXII. Deutscher Hispanistentag, 27.-31.03.2019, Berlin.
30. "La figura del migrante y tropos de in_movilidad en la literatura guineoecuatoriana contemporánea", Institut Français de Guinée équatorial, Malabo (Äquatorialguinea), 06.02.2019.
29. "Poesía hispanoafricana más allá de Guinea Ecuatorial: posicionamientos transculturales y transnacionales del sujeto", Centro Cultural de España en Malabo (Äquatorialguinea), 05.02.2019.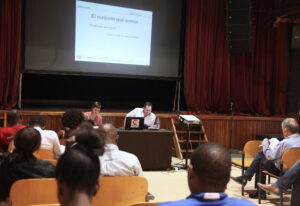 28. "Einblicke in die Forschungswerkstatt: Die spanische Black Diaspora", Gastvortrag in der Ringvorlesung Master Romanistik International, Universität Bremen, 18.12.2018.
27. "Afrospanische Entwürfe von Gemeinschaft in Literatur und Blogs", Gastvortrag in der Einführung in die Kulturwissenschaft Spanien / Lateinamerika, Martin-Luther Universität Halle-Wittenberg, 5.12.2019.
26. mit Natascha Ueckmann. "La Shoah et le Sud Global : Perspectives francophones sur l'histoire européenne", 11. Kongress des Frankoromanistenverbands, Osnabrück, 26.-29.09.2018.
25. "Dekolonialisierte Körper: Textstelle und visuelle Inszenierungen des weiblichen Körpers in afrofeministischen Blogs aus Frankreich und Spanien", Romantisches Kolloquium der Uni Wien, 25.-27.05.2018, Payerbach (Österreich).
24. "Negotiating Blackness in the Digital Space – A Comparative Perspective on Afro‐French and Afro‐Spanish Blogs", Annual Meeting der American Comparative Literature Association, Los Angeles (USA), 29.03.-01.04.2018.
23. mit Stephanie Neu-Wendel, Juliane Tauchnitz und Maria Zannini: "Unheard (-of) (female) voices from the Afro-Romance diaspora – Who is speaking and who is listening?", XXXV. Romanistentag, Zürich, 08.-12.10-2017.
22. mit Stephanie Neu-Wendel. "Blogs and Websites as Spaces for Negotiating (Female) Afro-Romance Identities", XXXV. Romanistentag, Zürich, 08.-12.10-2017.
21. "En/tre África y Europa: Afro-spanische Identitäten und transkulturelle Lebenswelten", 2. Kongress der Kulturwissenschaftlichen Gesellschaft Migration und Europa in kulturwissenschaftlicher Perspektive, Vechta, 06.-08.10.2016
20. "Being Im/Mobile: Migrant Characters in Afro-Spanish Narratives", 42nd Annual Meeting of the African Literature Association: Justice and Human Dignity in Africa and the African Diaspora, Atlanta (USA), 06.-09.04.2016.
19. "Migration and the Transcultural Subject in Agnès Agboton's Writings", Afroeuropeans: Black Cultures and Identities in Europe V, 16.-19.09.2015, Münster.
18. "Traumanarrative im haitianischen Gegenwartsroman: Lyonel Trouillot und Yanick Lahens", I. For­schungs­tag Sprachen, Literaturen und Kulturen der Karibik, 19.-20.06.2015, Berlin.
17. "'Mi tragedia, a saber, ser negro en un país blanco'. The Inner Conflict of the Diasporic Subject in Short Stories and Poems by the Equatoguinean Writer César Mbá Abogo", 41st Annual Meeting of the African Literature Association: African Futures and Beyond: Visions in Transition, Bayreuth, 03.-06.06.2015.
16. "Reflections on the (In)Visibility of the (Post)Colonial Caribbean Subject", Socare Junior Research Conference on Cultures of Resistance? Theories and Practices of Transgression in the Caribbean and its Diaspora, Center for Interdisciplinary Research (ZiF) at Bielefeld University, 22-24.01.2015.
15. "'Tu ne peux pas comprendre, tu n'étais pas là.' Die Figur des Rückkehrers im haitianischen Diaspora-Roman", 9. Frankoromanistentag, 24.-27.09.2014, Münster.
14. "Narcotraficantes, Pandilleros and Urban Violence: Coming of Age in Contemporary Dominican Novels by Luis S. Santos and Pedro A. Valdez", Dominicanidad – Perspectivas de un concepto (trans-)nacional / Dominicanity – Perspectives on a (trans-)national concept, Tagung am America Romana Centrums der Universität Trier, 02.-03.07.2014.
13. "Geschichten der Zer/Verstörung. Zur Fiktionalisierung der Gewalt im zeitgenössischen haitianischen Roman", Forschungskolloquium Forum INPUTS der Universität Bremen, 08.05.2014, Bremen.
12. "Der Körper als Medium traumatischer Erinnerung bei Lyonel Trouillot und Edwidge Danticat", 8. Frankoromanistentag, 19.-22.09.2012, Leipzig.
11. "Beyond Cadavers and Cocoa Trees. Re-appropriating Violence in Haitian Literature", 36th Annual Conference of the Society for Caribbean Studies, 04.-06.07.2012, Oxford (UK).
Panelleitung mit Rebecca Fuchs.
10. "Überlegungen zu einer literarischen Ästhetik der Gewalt", Kulturwissenschaftliches Nachwuchskolloquium am Romanischen Seminar der Leipniz-Universität Hannover, 04.-05.11.2011.
9. "Gewalt im/am Text. Überlegungen zu einer literarischen Ästhetik der Gewalt im haitianischen Roman", Nachwuchstagung der Society for Caribbean Research: Performing Emotions in the Caribbean: Kulturproduktionen der Karibik im 20. und 21. Jahrhundert, 24.-25.06.2011, Berlin.
8. "Violence and Space in Lyonel Trouillot's Novels", Gastvortrag im Seminar Engagement, Exile and Errancy: Narrating Haiti After the U.S. Occupation von J. Michael Dash an der New York University, 16.11.2010, New York.
7. "Lyonel Trouillot et les débordements de la violence", 22th Annual Haitian Studies Association Conference, 11.-13.11.2010, Providence, RI (USA)
6. "Eine Topographie der Gewalt. Port-au-Prince im zeitgenössischen haitianischen Roman", 7. Frankoromanistentag, 29.9.-2.10.2010, Essen.
5. "Delirious Odysseys in the City. An Analysis of Urban Space in Contemporary Haitian Novels", Simultaneity, Multiplicity and Chaos in Cityscapes in the Americas and Beyond: Representations of Urban Complexity in Literatur, 25.-26.6.2010, Bielefeld.
4. "Spaces of Violence in the Haitian Novel", 35th Annual Conference of the Caribbean Studies Association, 24.-28.5.2010, St. Peter (Barbados).
3. "Räume der Gewalt im zeitgenössischen haitianischen Roman", Forschungssymposium Gewalt und gesellschaftliche Konflikte in den romanischen Literaturen, 05.-06.01.2009, Potsdam.
2. "Haunted by the Past, Longing for Salvation. Das Trauma der Täter- und Opferfiguren im Werk von Edwidge Danticat", AVAR_net Nachwuchstagung Täterbilder/Opferbilder, 16.-18.10.2009, Berlin.
1. "El 'espeluznante historial' de las fechorías de los inmigrantes haitianos. El desmontaje del discurso antihaitiano en La Avalancha de Manuel Matos Moquete", 17. Hispanistentag, 18.-21.03.2009, Tübingen.